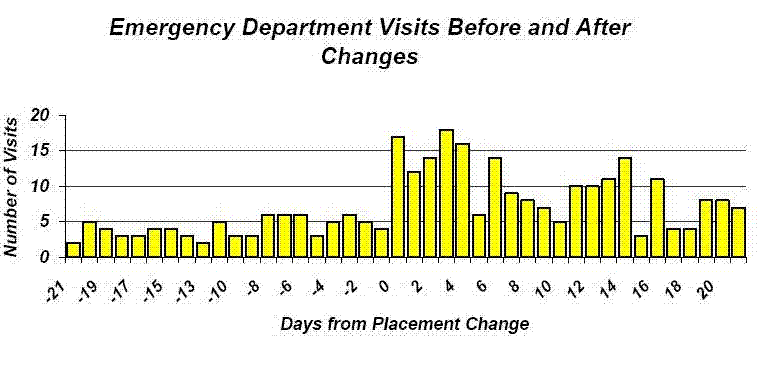 Research has found that foster children receive fewer outpatient services than do other Medicaid-eligible children and also receive a greater proportion of their outpatient care in hospital emergency departments. One recent study found a dramatic increase in emergency department visits right after placement changes. This demonstrates the need for better health care access and management for foster children, especially in the period directly following new placements.
The foregoing chart appeared in the report Background of Child Welfare Services (pdf) from the Child Welfare League of America (CWLA) dated February 12 2007. The CWLA is the trade association for the social services industry, and the report is part of a lobbying effort on their behalf.
The study followed a sample of 2358 children for a year, and the chart shows the number visits to the Emergency Department (ED) during the three weeks before and after "placement" (entering foster care). It shows that the rate of emergency room visits increases dramatically after placement. In bureaucratic speak, that means they need more money for emergency rooms. In plain talk, it means that going into foster care is outright dangerous.
In case the CWLA deletes its report, we have a local copy (pdf).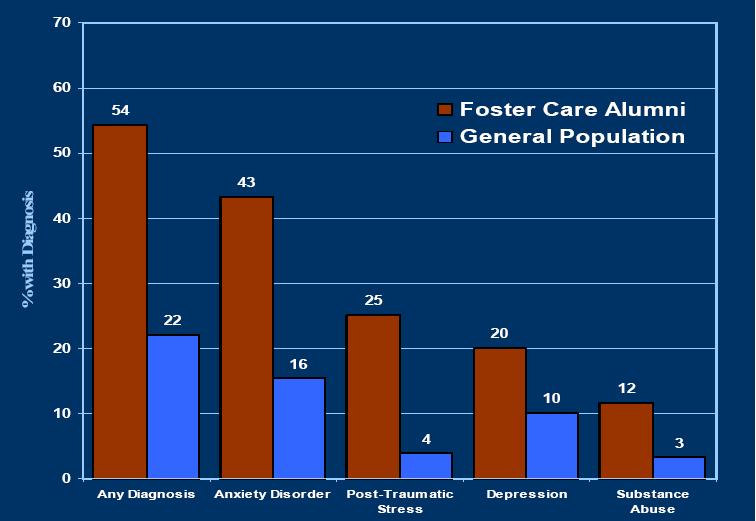 The Northwest Alumni Study (2005) compares the mental health diagnosis of foster care alumni to the general population. They found that foster care alumni were significantly more likely to experience mental illness then the general population. Foster care alumni were six time more likely to suffer post-traumatic stress disorder, four times more likely to turn to substance abuse, twice as likely to experience depression, and more than two and a half times more likely to be diagnosed with an anxiety disorder than the general population.
The chart above is from the same CWLA report. It shows a dramatically higher incidence of problems among graduates of foster care, especially for the more disabling pathologies, drug abuse and post traumatic stress.
The importance of these charts is that they come, not from critics, but from the social services system itself, so their truth cannot be denied by its proponents.